Background
MAST has appointed Tasmania Marine Construction after a competitive tender process to extend the existing Freemans Jetty on the Esplanade at Coles Bay.
A Glamorgan Spring Bay Council asset, the extension works have a budget of $660,000 and were funded from allocations and commitments from MAST and PWS to cater for the demand of recreational boating in the Coles Bay community.
Design and construction of precast concrete components will commence in October 2023, with site construction commencing after Easter 2024 and continuing for a 14-week period.
Please note that there will be no access to the adjacent boat ramp (No. 4) and jetty for the duration of these construction works. All other ramps are anticipated to be available.
General Arrangement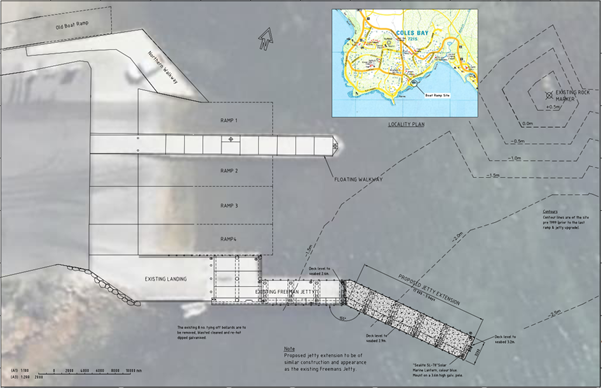 Timeline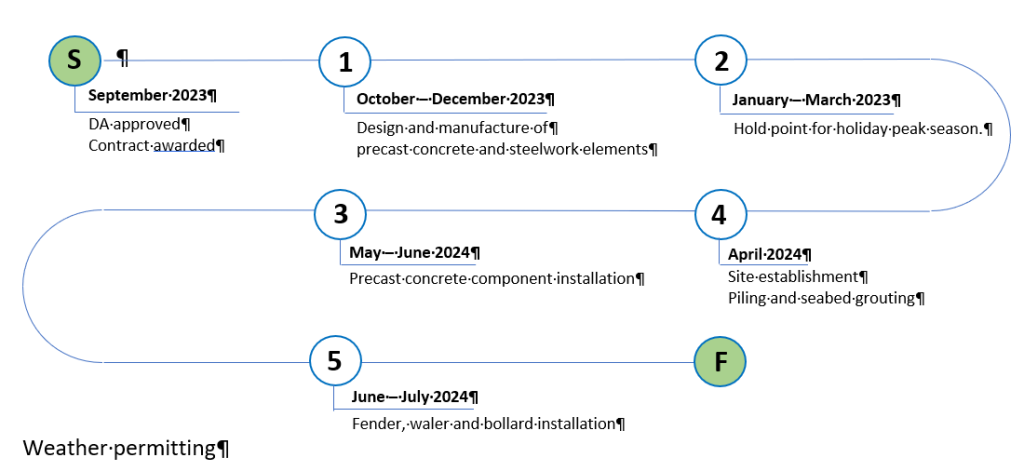 Community Benefits
Reduced eco-tourism and recreation vessel congestion at the existing Freemans Jetty by the provision of additional berthing space
Safer boating to the facility by giving waiting vessels an alternative location away from launch ramps to wait for passenger loading/unloading.
Provide a layup location for recreational boaters to park/retrieve their boat trailers.
Addresses the increase in recreational boating activity in the area by expansion of existing facilities.
Provides additional length of facility to enable recreational fishing to cohabitate with vessel berthing.
Provide additional sheltered waters to the boat ramps and landing pontoons located north of the proposed jetty extension and its breakwater panels.
What to Expect
There will be no access to the jetty and adjacent boat ramp throughout the duration of the project. The remaining three boat ramps will remain available for use.
There will be a site construction area established and delineated by fencing and signage for safety. Some laydown areas will be required in the road approach to the jetty.
There will be no berthing at Freemans Jetty. Alternative berthing will be available at the floating pontoon jetty.
Appropriate traffic and pedestrian control measures will be implemented onsite during the works.
The use of heavy plant and machinery and noise during construction and also the use of cranes, a pile driving rig and trucks.
Updates
September 2023
Planning Approval gained from Glamorgan Spring Bay Council
October 2023
Tender Awarded to Tasmanian Marine Construction
Construction and Environmental Plan, Safe Work Method Statements supplied.
Precast concrete elements have been scheduled and booked with precasters
Progress Photos
To be supplied as project progresses
Historic Photos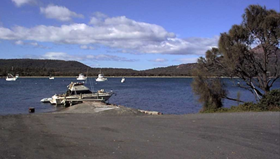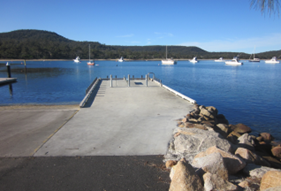 Stay Informed
We appreciate that these works may present some inconvenience and we ask for your patience during these times.
The community, residents, businesses and other stakeholders will be kept up to date with the project via MAST's website. For more information or assistance, please contact 6235 8888.