Earlier models are typically ridden while standing up but in recent years and with the advent of 4-stroke PWC, they are primarily sit down and are capable of carrying passengers and towing ski biscuits and water skiiers.
PWC operators must adhere to all the requirements of the legislation as any other motor boat operator.
Using a PWC safely
Hours of Operation
Personal Water Craft can only be operated from Sunrise to Sunset.
Freestyling
Freestyling means erratic and non-directional driving which can make it difficult for others to predict the motor boat's course to avoid a collision. It includes wake jumping and tight turns such as donuts.
PWC (and motor boats) are not permitted to operate in a "freestyle" manner when within 200 metres of a swimmer, or 200 metres of the shore if a dwelling is within 100 metres of that shoreline.
Safety Equipment
You must wear a life jacket. Riders have the option to wear either a Level 50, 50S, 100 or 150 in smooth and sheltered waters. Inflatable life jackets cannot be worn.
Sheltered waters are up to 2nm seaward of land from Cape Grim in the far north west eastwards to Cape Portland and down the east coast as far as South East Cape. Sheltered waters do not include seaward of Maria Island or Bruny Island.
In all other waters, that is greater than 2nm seaward of land, all life jackets must be level 100 or greater.
Inflatable life jackets are not permitted on PWC
A fire extinguisher (0.75kg or greater) must also be carried
Flares, EPIRB/PLB, tow line and VHF Radio (handheld is sufficient) are required outside Sheltered Waters
View Marine and Safety (Motor Boats and Licences) By-laws 2013 for safety equipment requirements (Part 2) and specifications (Part 3).
Equipment
PWC within Sheltered Waters
PWC within all other waters
Life Jacket
Mandatory
Mandatory
Flares
(2 red hand-held and
2 hand held smoke signals)
Mandatory
Mandatory
(2 red hand-held and 2 hand held smoke signals and 2 x Red Parachute)
Fire extinguisher
(1x 0.75kg with 5BE Rating)
Mandatory
Mandatory
EPIRB
(Must conform to AS/NZS4280.1)
or PLB
Mandatory
Tow Line
Mandatory
Radio
Mandatory
There are also a number of items of clothing and gear which will make your riding safer and more comfortable. Due to the water temperature in Tasmania, you should always wear a wet suit, gloves and booties.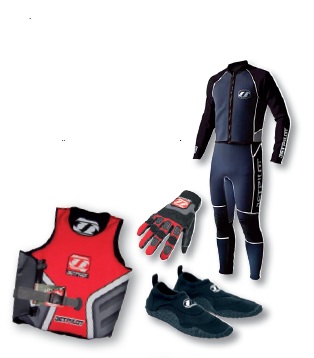 Impact resistant goggles or glasses are also recommended.
Safe Operation Sticker
A safe operation sticker must be affixed to the PWC.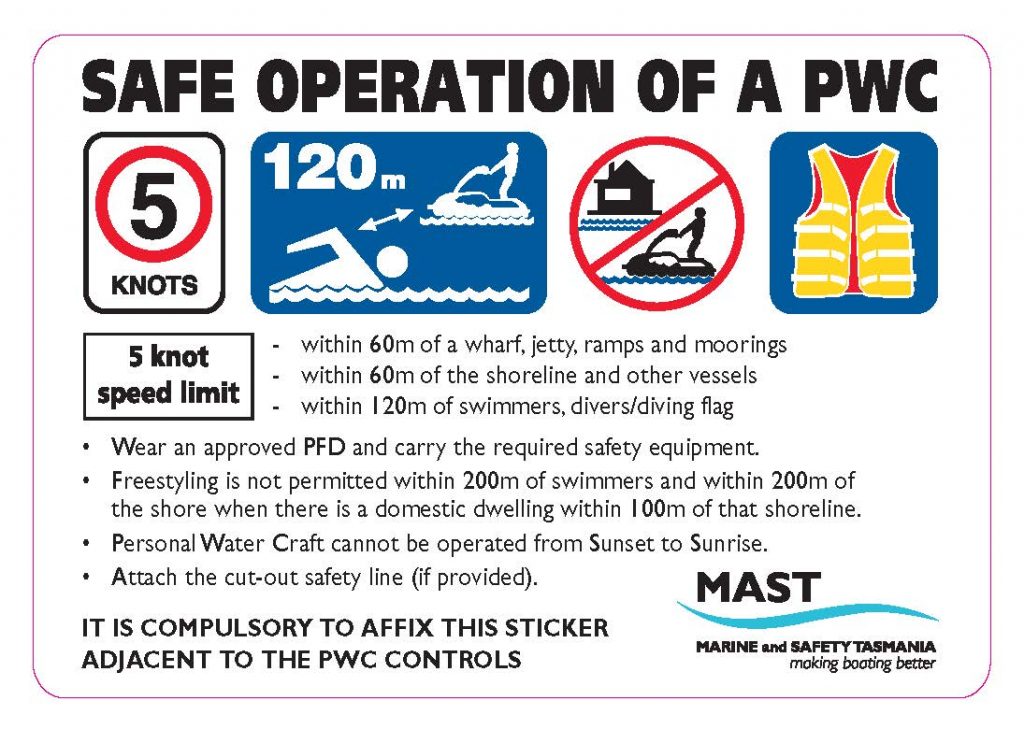 Prohibited Areas
Throughout Tasmania there are areas which are prohibited to motor boats and PWC. Several of these areas are around popular swimming areas, notably Park Beach in the south and Stephensdale Bay on Lake Trevallyn.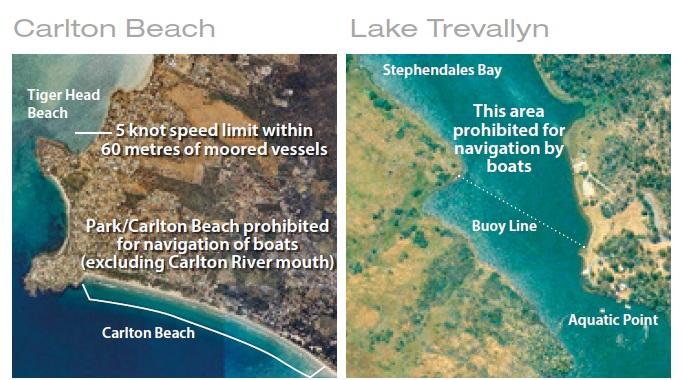 Speeds and Distances
All motorised vessels cannot exceed a speed of 5 knots when within:
60 metres of the shore, a wharf, jetty or another boat
120 metres of a swimmer, diver or someone wading in the water
designated 5 knot areas around the state
Some designated 5 knot areas that may affect the operation of PWC are shown below.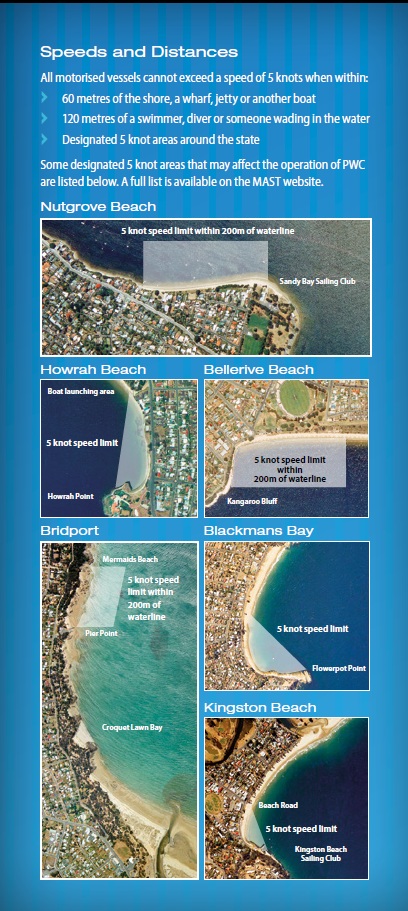 Further information on Speed Limits and 5 Knot Zones is available on this website
Designated Ski Areas
There are several areas set aside as designated ski areas.
In these areas the speed of 5 knots must not be exceeded unless towing a skier
Freestyling and excessive speeding are not permitted
These areas include Lake Trevallyn and the South Esk River adjacent to the South Esk Drive, Hadspen and the River Derwent from Sorell Creek up river to the caravan park ramp.
Jet Ski Tasmania
Jet Ski Tasmania is the only PWC club in the state.
The aim of the Club is to provide members with a safe environment in which to operate for the various activities undertaken.
The Club's activities include short and long course rides throughout the state as well as time trials, tours and fun events.
Email: info@jetskitas.com