The majority of leases are in the South East of the State, however there are shellfish leases in the far North West and fin fish leases in Macquarie Harbour.
The marine farming industry is regulated by the Department of Primary Industries, Parks, Water and Environment (DPIPWE) under the Living Marine Resources Management Act 1995 and the Marine Farming Planning Act 1995.
Marine Farming leases are generally marked at their extremities by special marks. These markers are yellow in colour and may have lights and a cross. The location of marine farm leases and marks can be found on the MAST GIS.
Mariners should avoid navigating within the lease, as there may be underwater hazards that are not charted or easily apparent when navigating in the vicinity.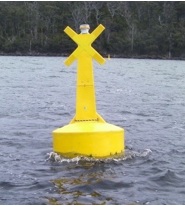 Marine Farm Debris Reporting
If you come across marine farming equipment outside a marine farming lease area i.e. on the water or washed up on the shoreline, you can report your sighting to the Marine Farming Branch (DPIPWE) by sending an email to: [email protected]​.
​​If debris poses a hazard to navigation, contact Marine and Safety Tasmania: