Essential Paddling Items
The following table shows the equipment required on light weight craft.
Light weight craft includes kayaks, canoes and stand-up paddle boards (SUP).
Equipment Required
Smooth Waters
Sheltered Waters
Coastal Waters
Life Jacket
(AS4758)
Level 50 – Mandatory
Level 50 – Mandatory
Level 100 – Mandatory
White strobe light or all round light with 360 degrees visibility
*Mandatory

*Mandatory

*Mandatory

Tethering device when more than 200m offshore
Mandatory
Mandatory
Mandatory
EPIRB or PLB
Mandatory
VHF – handheld
Mandatory
Bailer or bilge in craft unless hull permanently enclosed
Mandatory
Mandatory
Mandatory
Compass
Mandatory
Flares
Recommended if undertaking a passage paddle
Mandatory
OR
EVDS
Recommended if undertaking a passage paddle
Mandatory
* Where lights on lightweight craft are specified as mandatory, the lights must be in use when the vessel is operating between sunset and sunrise and at other times where visibility is reasonably limited.
If a lightweight craft is accompanied by a powered support vessel or three lightweight craft are travelling together in waters other than sheltered waters, the carriage of flares, EPIRB/PLB and VHF radio (the equipment) may be reduced to carriage of the equipment by one of every three lightweight craft if the lightweight crafts remain within 50 metres of the craft or powered support vessel carrying the equipment.
A person on a lightweight craft is exempt from wearing a Life Jacket when the sole purpose of operating the lightweight craft is to ride the crest of a wave in a *surf zone toward the shoreline.
* surf zone means the area between the outermost breakers and the shore.
Tethers for Sit on Tops, Sea Kayaks, Canoes, Stand up Paddle Boards
The tether needs to be attached to something. The method of attachment and what you are attaching to will depend on which style of craft you are paddling.
Sit on Tops
Having the boat attached to yourself makes sense as these craft are prone to being blown away, leaving the user in the water with nothing to hang on to.
Wearing a tether may save your life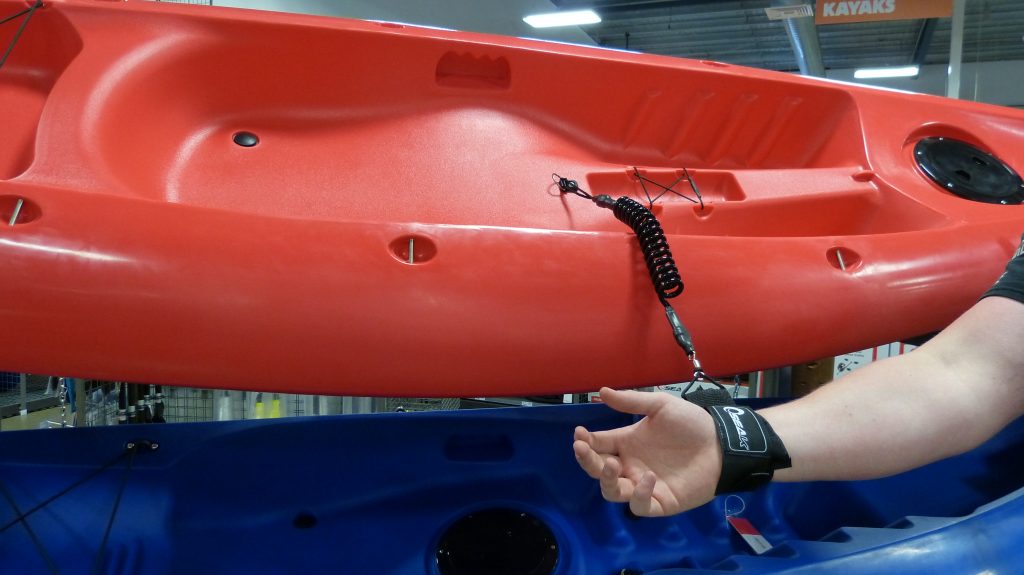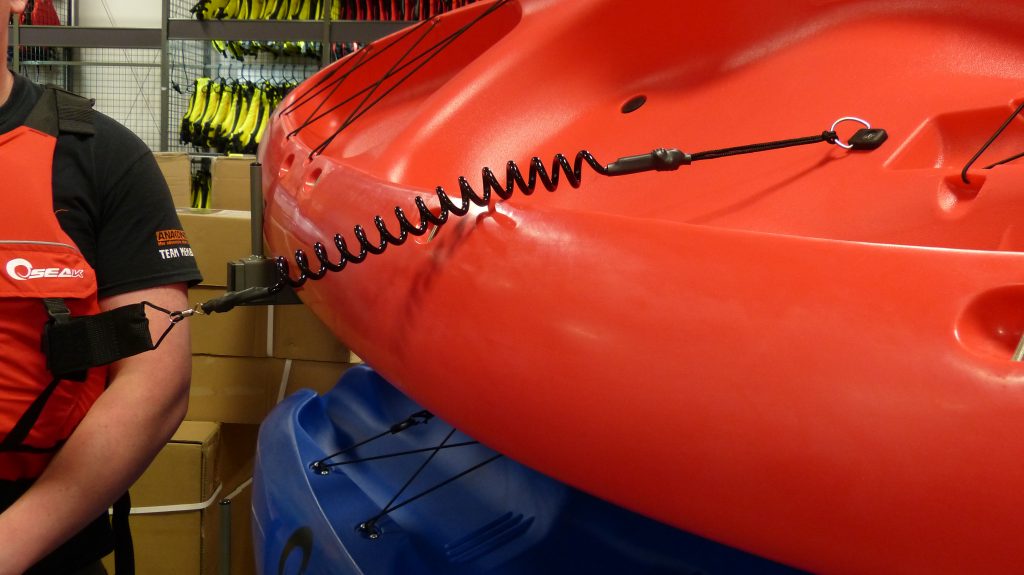 Sea Kayaks / Canoes
A paddle leash will probably be a better option as these craft tend to take on water if you capsize. The chance of a sea kayak being blown away from the paddler is much less than with the sit on top. Having the paddle attached to the kayak will enable the paddler to enter and exit the craft unencumbered.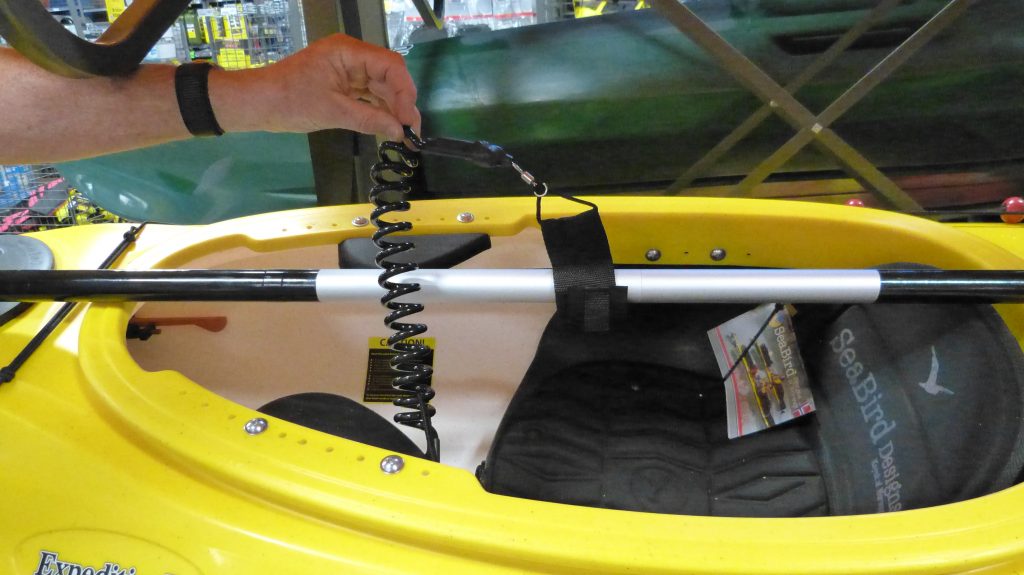 Stand up Paddle Board
The SUP user will generally use a leg leash, much the same as a surf board rider. It is up to the individual paddler as to how they want to configure their tether.
Use of a tether on a stand up paddle board is highly recommended as this device will keep you attached to the board which could be your life saving device. Even though regulations don't require you to wear a leash until you are 200m off shore, the use of a tether on a SUP is recommended at all times.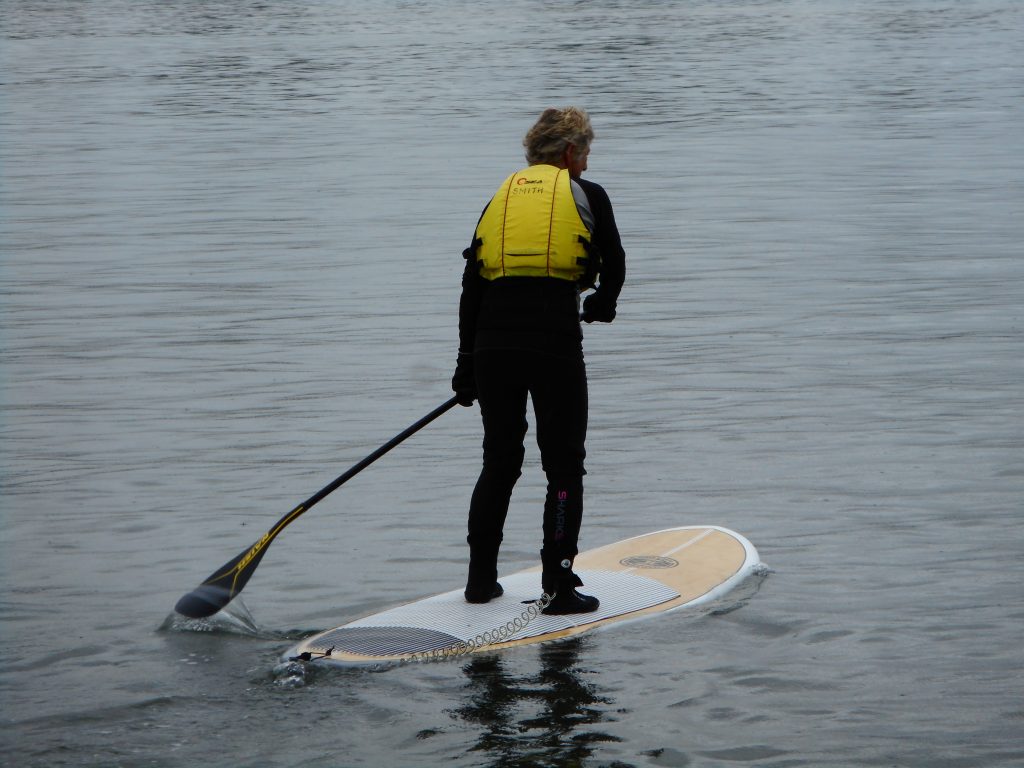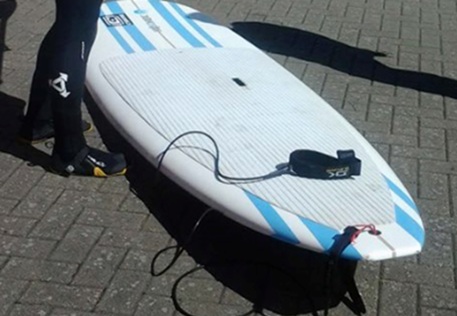 Kayak, Canoe and SUP Safety Tips
Always wear a life jacket
Tell someone where you are going and when you expect to return
Never venture too far offshore – weather changes can be quick and severe
If setting out, and you are paddling with the wind or tide, remember you may have these against you on your way back!
Spend some time close to shore to get used to your kayak or canoe
Try to paddle in company
Check your canoe or kayak prior to each trip for leaks or cracks
Seek local knowledge if paddling in new and unknown waters
Always use a tether – it may save your life
Make sure you are carrying the required safety equipment
Always check the latest weather forecast and tides by checking the BOM website (MetEye) or download the free Deckee App
Other important tips:
Wind
Wind will slow paddling down and the extra effort required will tire you more quickly than normal. Also think about offshore winds – don't get blown away from shore.
Waves
Waves can be larger than expected and can change in size depending on water depth.
Tides
Tides can be strong and having to paddle against the tide can make you tire quickly. Tidal flow against the wind direction will make waves steeper and water more choppy. Plan your paddle according to tides.
Surf
Unless you are an experienced surf paddler, stay out of the surf. If you venture into these conditions, always stay away from swimmers.
Cold Water
Tasmanian water temperatures can get as low as 9 degrees celcius. Hypothermia can effect you and its onset will be rapid if you end up in water this cold. Even summer water temperatures can induce hypothermia.
Enjoy your time on the water with your kayak or canoe but remember, if you are not confident in your ability or your craft is not suitable for the prevailing conditions, then don't go out.
Learn more about Cold Water Immersion.
Paddling After Dark
Paddlers in kayaks and canoes, irrespective of where they paddle, are reminded that in darkness they must display an all round white light.
MAST recommends that a white light or white strobe is used which is visible at 360 degrees and is turned on at all times whilst paddling in darkness or poor visibility.