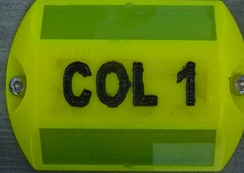 MAST has provided GPS validation marks for boat users across Tasmania.
This places visible markers at a number of public boat ramps and associated jetties, at which mariners or owners of portable GPS units can use to validate their position and map datum settings.
One aim is to ensure that boat users have set up their GPS units in the correct map datum.
How to use the markers:
Manoeuvre your GPS unit as close to the yellow cat's eye marker as possible. These markers will be placed either on the bitumen or concrete road surface
Ensure that your GPS unit is tracking at least five satellites and is set to the correct coordinate type (LAT/LONG or UTM) AND DATUM (WGS84/GDA94)
Make sure your GPS unit display coordinates match the surveyed coordinates of the marker. Agreement with the coordinates shown on the MAST website should be possible to within 15 metres or 0.008 min.
Location: At end of concrete landing on southern side (Freemans Jetty)