The receiver receives transmissions on the repeater channel frequency and then re-transmits this through the transmitter. In essence repeaters are range extenders.
The nominal range of each repeater is 80km, but this will vary from repeater to repeater and it should also be noted that as VHF is essentially "line of sight", some areas of coastline might be in a shadow zone. The repeater channels are what is known as "duplex", in that the transmitting and receiving frequencies are different. This is different to the " simplex" channels, such as Channel 16 in which the transmitting and receiving frequencies are the same.
The repeaters are now used mainly for vessel to vessel communications as CH16, the international distress and calling channel, is monitored 24/7 by Tas Maritime Radio and some shore stations. Some repeaters in the north of the state are sometimes monitored by volunteer radio stations.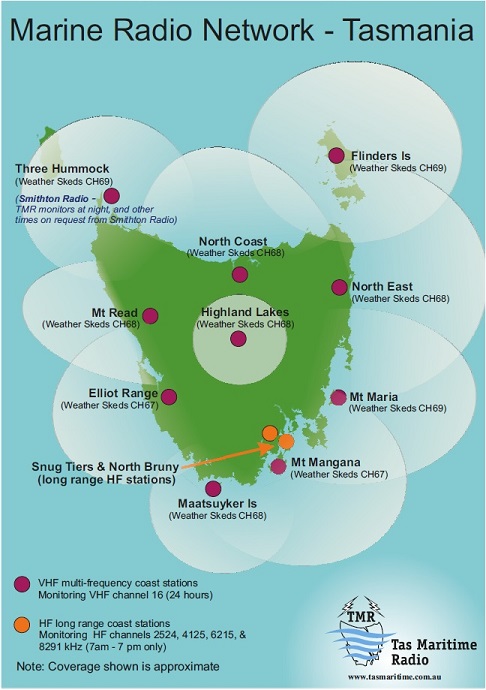 Accessing a repeater
The position of the closest repeater station to your vessel should be ascertained and the appropriate channel number selected on your VHF radio. It is essential that you check your unit is set to "international" as this ensures the duplex frequencies. It is then a matter of calling the desired receiving station, either another vessel or a coast radio station. You should be aware that the repeaters have a 30-second time out facility. This means that after 30 seconds of continual transmission they automatically switch off for a couple of seconds. They can be re activated by momentarily releasing the transmit key on your radio and then transmitting again. This facility is designed to stop people from over using the channel.
Benefits in using the repeater
As previously stated, most repeaters are monitored from shore by volunteer coastal radio stations. Hours of monitoring do vary from season to season but as a general rule they are monitored from 8am to 5pm daily. The shore stations broadcast weather forecasts over the repeater frequencies and are also able to offer vessel position reporting whilst at sea. They can also be used for passing distress and urgency messages such as "Mayday" and "Pan Pan" calls, although these calls should also be made on the recognized distress frequency of Channel 16 to notify other vessels in the vicinity.
Volunteer Coast Radio Stations
All coast radio stations in Tasmania are manned by volunteers and are self-funded. Part of this self-funding is generated by annual donations of users of particular stations. This donation is in the vicinity of $20.00 and this is considered a cheap price for safety monitoring. If you make use of the repeater system on a regular basis, you might like to consider making such a donation.
| | | |
| --- | --- | --- |
| Location | Channel Number | Monitored by: |
| Maatsuyker Island | 82 | Not routinely monitored |
| Cape Sorell | 80 | Not routinely monitored |
| Bluff Hill Point | 81 | Mersey Radio and Smithton Radio |
| Dazzler Range | 80 | Mersey Radio and Tamar Sea Rescue |
| Mount Horror | 82 | Mersey Radio, Tamar Sea Rescue, St Helens Marine Rescue |
| Cape Tourville | 80 | Not routinely monitored |
| Mt Raoul | 81 | Not routinely monitored |
| Three Hummock Island | 21 | Smithton Radio |
| Mt Maria` | 16 | Tas Maritime Radio |